55 years in the Gunleather Industry
Voted Best Gunleather, True West Magazine
Every John Bianchi rig is a handmade work of art, giving each outfit its own personality. From among the wide array of styles and selections offered, you choose your own combination of design, finish and particular details to suit your particular preference. Your custom made holster will be wet molded to the actual model of the gun it will hold, and the beautiful, hand rubbed finishes are the true signature of a Frontier Gunleather gunbelt holster.
The new Doc Holliday Shoulder rig is reminiscent of the early styles from the 1880's. Designed for large pistol models from the frontier period of the old west. This style shoulder outfit is not designed for concealment, but to comfortably carry a heavy pistol. A perfect addition to period reenactors. $235
Model 1872 :: The Mexican Loop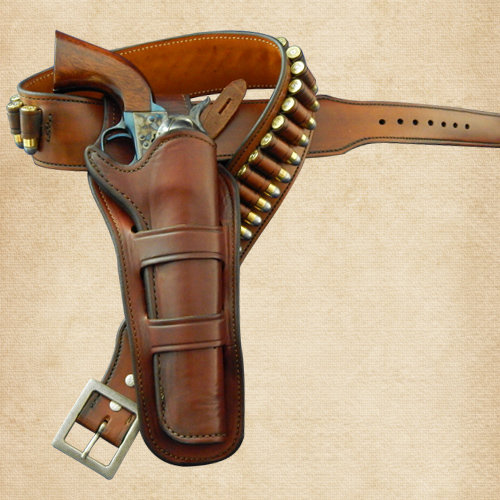 The Mexican Loop style holster is regarded as the origin of frontier period holsters for the new cartridge revolvers of the 1870's. This reproduction model is a faithful re-creation of the most popular style from the American West. Fully leather lined and saddle stitched, wet molded for your revolver and available for all large frame single action revolvers.
Offered in a plain finish only.
Holster $215
Belt $195
Model 1877 :: The Crossfire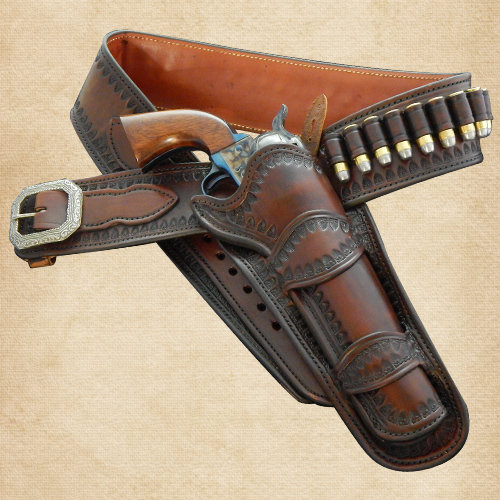 The crossdraw style holster was a frontier period favorite for mounted riders. The comfort and easy access to heavy, long barreled six guns was favored by cowboys and all other horseback mounted riders that spent long hours in the saddle.
The Crossfire model is fully leather lined, saddle stitched and finished in an antique, old world hand rubbed chestnut color. A matching cartridge belt has cartridge loops centered in the middle of the back so that a second straight-hang holster can be added.
The belt and holster are hand-stamped in a discrete border design for an upscale look. Offered with either the Gunfighter, or Powder River Buckle. Holster $250 Cartridge Belt $295 Full rig $545 Fancy border stamping subject to change at makers choice.

VIEW THE 2017 CATALOG
Click on the link above to view our interactive online version of the 2017 John Bianchi's Frontier Gunleather Catalog. Flip through the pages and see our newest products as well as our classic favorites.
For any questions or to place your order be sure to contact John Bianchi's Frontier Gunleather today at 760-895-4401!
Click here to download the catalog (18 mb)
---